Hours
5's (campers entering kindergarten) 9:00am to 3:00pm
6's (campers entering Grade 1) 9:00am to 4:00pm
 
Staff
Staff is chosen for their experience with young children. Group size is 12 maximum. Ratio of counselor to camper is 1:5.
 
Program
Activities include daily sports clinics and swim instruction (American Red Cross swim program), waterslides, cooking, tennis, theatre, science, hip hop, magic, archery, golf, drumming, nature, specialty crafts, challah baking, Jewish music and art, yoga, special events, shows and more!
There are also daily special workshops and attractions that are brought onsite. Check out the camp calendar to view these specials!
 
Sample Schedule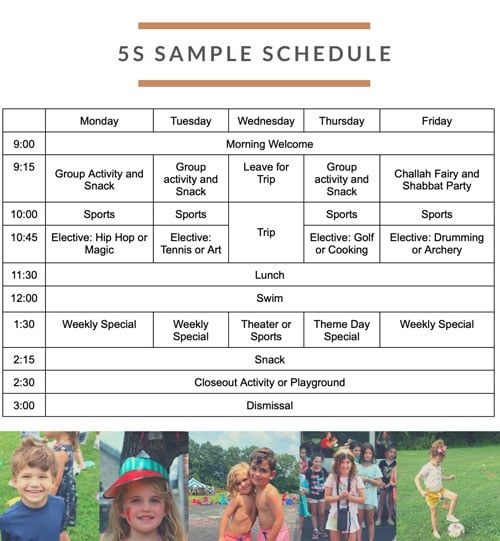 Electives
Camp Gan Israel offers a wide range of activities. In addition to the main bunk activities, campers ages 5 -10 have daily electives, where they choose between two activities.
All electives are led by professional coaches who believe in our mission and bring their expertise to the campers. In addition, all campers participate in one sports clinic per day, and swimming instruction.
Click on the icons below for more info on each activity.